VE5CI
Input: 146.340MHz ~ Output: 146.940MHz
Our repeater is referred to as the "34/94" and its callsign is VE5CI. This repeater was recently sold to us from the Moose Jaw based Pioneer Radio Club whom were responsible for its inception at a cost of $2200.00 in 1976 or 1977 at a location south-west of the City. It remained at this site until 1994 when it was given a new home in the City. The Western Development Museum was gracious enough to allow the club to install the repeater and antennas at their location on the north end of Main Street.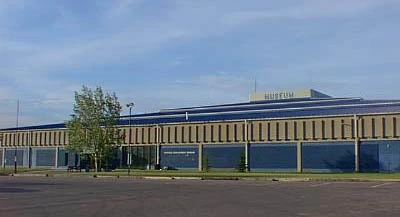 This grand sized building has provided us with a rather exceptional outbound signal due to the metal roof. We have had a wonderful partnership with the WD Museum and staff. On July 23, 2000 the existing VHF Engeneering repeater was taken out of service in favor of a more modern Motorola GR1225 repeater. The new unit boasts power output levels of 25 to 50 watts with sensitivity at about .35 uv. It has also been fitted with battery backup for those times we loose main power. This update was done because the old repeater was becoming difficult to repair due to its age.
There are two antennae atop the Museum. The one on the left of the is the 34/94 repeater antenna and the other is a multiband for the HF station. I estimate the building to be about 300' by 300', so that metal roof provides quite a ground plane, and I don't imagine that the slope hurts, at all! Highway #1 passes along just behind the Museum, so you'll be certain to see it when you pass by. And better yet, stop in, visit our Wireless Rooms, and sign our Guestbook.
Installing the New Repeater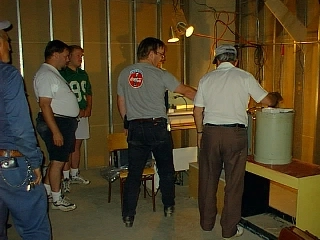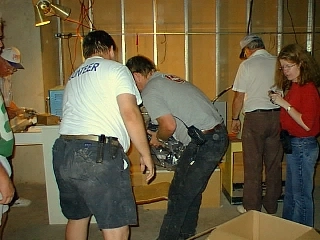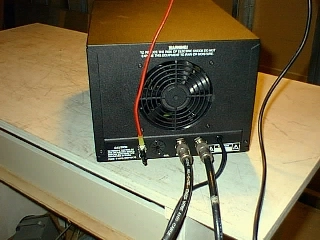 The Pioneer Radio Club
The Pioneer Radio Club was formed in 19xx with one of their goals being the erection of Moose Jaw's first amateur repeater. On April 28, 1975 the Club contacted a local business, Sonic Supplies, and asked for an estimate on a Delhi DMX144 tower, antenna and lights. The tower was erected sometime in 1976. In 1995 it was decided that the Pioneer Club would sell its repeater to the MJARC and this did take place in 1996. Here are some of their members, at one time or another: VE5AQ Al [SK], VE5AV Bill, VE5AAG Bernie, VE5AAN Earl [SK], VE5AAY Wayne, VE5ADU Dennis VE5AED Lloyd, VE5AFU John, VE5CD Russ, VE5CG Charles, VE5CX Jack, VE5DI Joe VE5DW Bill, VE5EG Vic, VE5EX Paul, VE5IB Bill [SK], VE5IL Fred, VE5KG Jim [SK], VE5LO John, VE5MP Les, VE5NG Stan [SK], VE5NX Len, VE5PQ Percy, VE5QN Doug, VE5RQ Ray, VE5TK Ron, VE5YI Lorne.